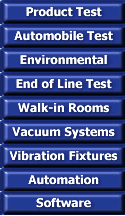 End of Line Test, Automotive Test,
and Product Test Equipment
Product testing and End of Line
Vehicle Component Test Systems.
World-class integration of electronic test equipment, instrumentation, test fixtures, automation, load simulation, data acquisition, and software .
In partnership with two major leaders in high-technology automation, three very capable machine shops, a custom cabling company, a rapid prototype circuit board fabrication house and two large automated sheet metal manufacturing facilities we offer custom process and test equipment designed and manufactured for convenience and precision. Each component of our systems is carefully considered to provide you with maximum performance consistent with easy maintainability and long term return on your investment.
We design and manufacture solutions for:
Component testing

Assembly testing

Systems testing

Prototype testing

Product handling

Product assembly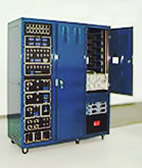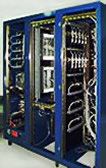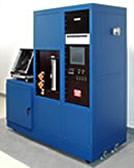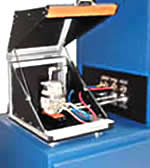 Our equipment is selected to perform:
Evaluation of Design for Manufacturability

Evaluation of Design for Testability

Product Debug, Test, and Validation

Prototype Evaluation

Engineering Feasibility Analysis

Product Quality Assurance
We are expert in electronics, instrumentation, data acquisition, sensors, process control, communications, software, fluid mechanics, mechanisms, refrigeration, cryogenics, high vacuum, heat transfer, hydraulics, material handling, sheet metal, structures, electrical wiring, piping, motors, and automation. Using these skills, we provide a broad range of possible technologies you can apply to your needs.
We use the latest engineering tools including AutoCAD and AutoDesk Inventor, a 3D package, to design and package your system.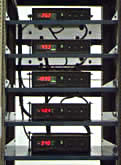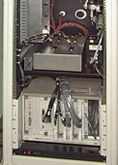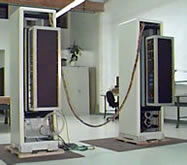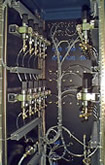 Please request a free analysis of your needs. You may also wish to review our Request for TetraTek Application Assistance on our Literature Page . Additional information on our Automation capabilities is contained on our Factory Automation and Robotic Handling Equipment Page.
Additional information on Automotive Testing, Vehicle Testing, and Emissions Testing Equipment can be viewed on our " Automotive Test " page of this web site.
---
Product Fixturing and Monitoring:
In addition to complete systems, we provide the accessories you need to conveniently power, connect, load and monitor your products.
You can download PDF Document examples of projects that involved fixturing. If you don't have an Adobe PDF File viewer, please see our Literature Page to Download a free viewer.
As part of our service, we design and manufacture the custom components and assemblies you need to complete your testing suite.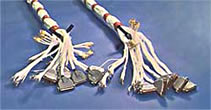 ---
Some of the items we commonly create are listed here to act as a check list when you are thinking about your own testing needs.
Electrical and fluid connectors and adapters.

High life and high current connector arrays.

Insulated wall feed-throughs and extender boards.

Mother boards.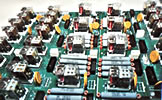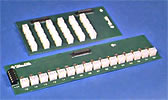 Distribution circuit boards with Molex to product pendants.

Power supply distribution panels.

Sensor housings and flow pre-conditioners.

Environmentally rated stainless steel and aluminum card cages.

Test fixture carriers with hydraulic or electric lifts.

Product connector insertion and retraction mechanisms.

Environmentally rated roll-in product test racks.

Product passive and dynamic load simulation boards.

Product monitoring electronics.

Test termination cable boxes and connectors.

Acoustic, thermal, and safety protection enclosures.

Product processing trays and holders.

Power supplies and bus bars.




As part of your testing team, we can provide you with complete testing facilities, project management, or the engineering necessary to allow you to do the work yourself.