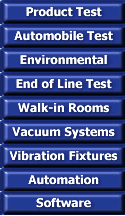 Environmental Test Chambers,
Automation, Process Control,
Production Fixturing, Automotive Test Systems,
and End of Line Test Equipment
Go with a winner:
Success starts with picking the right team. We have never failed on any project or assignment we have undertaken. We design and manufacture; environmental test chambers, automobile test facilities, test fixturing, automated equipment, production machines, instrumentation consoles, and end-of-line test stations. Our capabilities range from small hand held devices to large building sized systems.
Founded by exceptional engineering professionals with over 40 years of experience and celebrating our 14th year of continuous service, we offer innovative and cost effective solutions optimized to your needs. We often work on existing equipment, processes, or new products in the development stage. We provide professional advice, theoretical analysis, engineering in a number of disciplines, and 2D and 3D computer aided design. We also write custom software code in assembly language, Microsoft VBA, and common Programmable Logic Control (PLC) formats.
Strategically located near Los Angeles, in fast growing and beautiful Ventura, County, California, we serve both National and International customers.

We are happy to share our expertise with you. Quotations are prepared promptly based upon your specific needs. We also supply budget information for planning purposes. If you need advice on a current or upcoming project, please contact us .
Our friendly staff is ready to assist you. You can utilize our forms as check lists or contact us directly for help. Best of all, there is no charge.
If you fill out our Request for Application Assistance, have digital photos that illustrate your needs, or have a specification you want us to look at, please attach them to your E-Mail .
---
State of the Art:
Unsurpassed capabilities:
---
Contact Information:
We are ready to help you in any way we can.