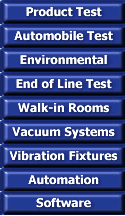 High Vacuum Cryogenic Shrouds
and Vacuum Systems
Thermal Base Plates, Thermal Shrouds, and Space Simulators
TetraTek's team of experts has over 30 years of experience in the fabrication of Thermally Conditioned Base Plates, Thermal Shrouds, Space Simulators, High Vacuum Systems, and matching Thermal Conditioning, Vacuum Pumping, Fluid and Gas Circulating, and Instrumentation Systems.
Vacuum enclosures are available to operate from 1 x 10-7 Torr to atmospheric pressure and thermal conditioning systems are offered to produce temperatures from almost absolute zero to 150 C (302 F). Fluid circulating systems are available to cool and heat Base Plates or Shrouds from -55 C to +150 C, while gas conditioning systems can cool and heat from -185 C to 150 C. Cooling systems utilizing, cryo-engines or liquid helium can reach temperatures as low as -263 C.
TetraTek Vacuum vessels feature:
304 or 316 heliarc welded stainless steel construction.

Electro-polished or bead blasted inside surfaces.

Leak testing to 1 x 10-9 std cc/sec.

Standard Conflat, KF, ISO, or ASA type flanges.

Roughing and/or gauge ports.

A sand or bead blasted exterior finish.

Stainless steel or aluminum slide or angle valves.

Vacuum roughing pumps, filters and traps.

Vacuum monitoring and control instrumentation.

Process control instrumentation with Touch Screen HMI.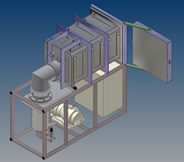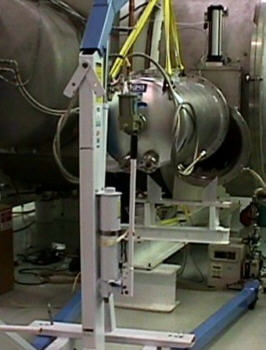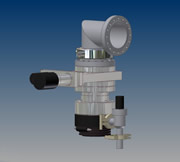 Base Plates, Shrouds and Vacuum Subsystems:
High vacuum electrical feed-throughs

High vacuum fluid feed-throughs.

Stainless steel and aluminum thermal shrouds.

Optically dense pumping ports.

Aluminum and copper base-plates.

Liquid nitrogen cooling systems.

Single stage and cascade refrigeration systems.

Fluid circulating systems.

Heating systems.

Gold plated copper shrouds and base-plates.

Pressurized gas circulation systems.

Helium engine cooling systems.

Cryopump assemblies.

Turbomolecular vacuum pump assemblies.

Thermocouple and process sensor feed-throughs.

Data acquisition systems.

Optically dense traps.
Please request a free analysis of your needs. You may also wish to review our Request for TetraTek Application Assistance on our Literature Page . Additional information on our test fixturing and product testing capabilities is contained on our TestKing Page and additional information on our Environmental Temperature Chambers, Humidity Chambers, Burn-in Chambers and Stress Screening Chambers is contained on our Environmental Page.
---
Advanced conductive gold plated cryogenic shrouds
Our unique TetraTek VacTek copper shrouds are fabricated from gold plated oxygen free, rolled, welded and plated copper. Inside one of our electro-polished stainless steel vacuum vessels using some unique techniques developed by TetraTek, and a commercial Helium Cryoengine, we are able to achieve temperatures on the inner shroud surface of approximately 10 Kelvin without the use of a cryogenic fluid such a liquid nitrogen.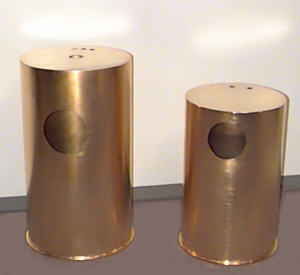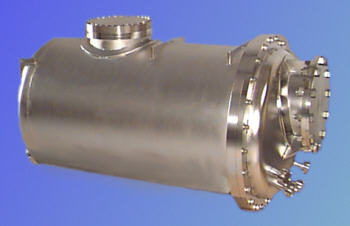 These systems are sometimes used for research in low temperature cryogenics, space simulation, as an infrared background for liquid helium cooled IR instruments, and for specialized materials research.
Copper thermal shrouds feature:
Oxygen free copper rolled and welded construction.

Vacuum rated paint on the inside surface of the inner shroud.

24-K pure gold plating for IR heat transfer resistance.

Gold plated and stainless steel machined hardware.

Optically dense openings or IR shields.

Black anodized aluminum product support structures.

Stainless steel hard-points.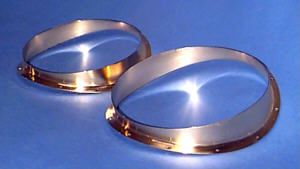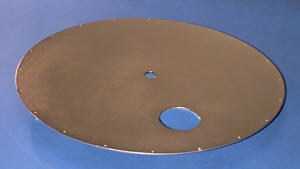 ---
A Typical TetraTek IR Sensor Housing Features:
1. An electro-polished stainless steel access door and optical inlet flange.
2. A copper outer shroud door, gold plated both sides .
3. A copper inner shroud door, gold plated and black painted inside.
4. A copper inner shroud, gold plated and black painted inside.
5. A copper outer shroud, gold plated both sides.
6. An electro-polished stainless outer vacuum shell.
7. An ASA flanged, stainless steel optical sensor interface port.
8. A cryoengine stainless steel Conflat flange attachment port.
9. A cryoengine low temperature connection plate.
10. A cryoengine medium (liquid nitrogen) temperature connection plate.
11. A commercial cryoengine.