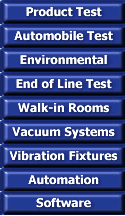 Temperature Chambers, Humidity Chambers,
Burn-in Chambers, and Stress Screening Chambers
Environmental Test Chambers
In a class by themselves, TetraTek environmental test chambers use laboratory proven subsystems to produce consistent test results. Each component is carefully balanced with all others to form a perfectly working whole. Extensive calculation, detailed engineering analysis, precision assembly, and thorough testing are TetraTek hallmarks.
TetraTek chambers include high volume air circulation systems to maintain inside air temperature uniformity, assure test to test repeatability, and maximize testing effects. These chambers are available with large cooling systems to allow rapid temperature cycling or to handle huge product live loads. All can be mechanically or liquid nitrogen cooled. They can even be furnished with a central chiller cooling system for multiple chamber installations. Instrumentation options include state of the art digital process controls, touch screen HMI's (human machine interfaces) and digital recorders and data loggers.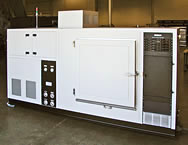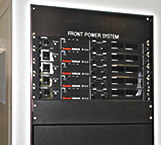 Temperature Ranges Available are:
Maximum available: -185 to +538 C (-300 to +1000 F)

Range 1: -30 to +60 C (-22 F to +140 F)

Range 2: -37 to +93 C (-35 to + 200 F)

Range 3: -37 to +177 C (-35 to +350 F)

Range 4: -73 to +177 C (-100 to +350 F)
Humidity Ranges Available are:
No humidity capability, temperature only.

20 to 95% RH, limited to 5 C dew point (mechanical dehumidification).

10 to 95% RH, limited to 0 C dew point (recirculating desiccant drier).

5 to 95% RH limited to -5 C dew point (compressed air desiccant drier).

5 to 95% RH limited by a -50 C dewpoint (compressed air desiccant drier).
Available accessories include built in; test fixturing, product supports, relay rack rails, shelves, card cages, product wiring, product piping, and custom product connectors. Test simulation load boards and external exercising electronics can be directly wired to internal supports or card cages.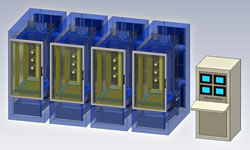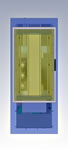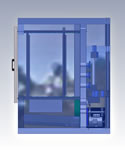 Please request a free analysis of your needs. You may also wish to review our Request for TetraTek Application Assistance on our Literature Page . Additional information on our test fixturing and product testing capabilities is contained on our TestKing Page.
---
Ideal for electronic testing
Our TetraTek Model BR40, Dual-Door Thermal Stress Screening Chamber, features a full forty cubic feet (40" wide by 40" high by 43-1/2" deep) of workspace and BOTH FRONT AND BACK Chamber access doors, 19-inch relay rack style mounting of test instrumentation, and inside chamber rail mounting of your device test fixtures. You have everything you need to successfully test your products, all in half the space needed by conventional designs.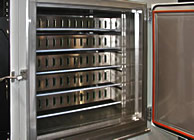 Conditioning equipment includes:
Vertical air flow for electronic component, circuit board, and assembly testing.

Cooling by either a single stage or cascade, non-ozone depleting, water cooled refrigeration system.

Heating by fast response nichrome electric elements controlled by zero-cross-over solid state relays.

Fully proportional modulation of cooling (no solenoids) for precise control of system conditions.

Optional humidification using a special thermally clamped, fast response, TetraTek vapor generator.

Optional low dew point dehumidification using a heatless, regenerative, compressed air desiccant drier.
---

Advanced Features of the Model BR40:
Access doors with top and bottom recessed locking cam-action locks and 19-inch EIA style drilled and tapped rails on the front and back for mounting of test electronics.

Optional power supplies, instruments, and distribution panels to power, stimulate, and monitor your devices under test.

Optional access sleeves for convenient connection to your test items.

Chamber workspace with both top and bottom air distribution baffles to assure even air flow distribution around your test items.

Front and rear, plug type, access doors with heavy duty hardware and latches for a tight seal.

Dual counter-rotating blowers to assure a uniform environment and even heat transfer around your test items.

System conditioning apparatus.

Control panel with touch-screen, 256-color, human machine interface.
---
Operational Specifications:
Temperature range: Single stage system: -20 C to 150 C

Optional Temperature range: Cascade cooling system: -65 C to 150 C

Optional humidity range: 15 to 95% limited by a 0 C dew point

Direct relative humidity (RH) measuring sensor standard.

Desiccant drier dehumidification standard.

Standard heating rate:

-20 C to 150 C in 30 minutes empty.

Standard cooling rate single stage:

150 C to 0 C in 30 minutes empty.

Standard cooling rate cascade cooling:

150 C to -55 C in 60 minutes empty.
---
Quality Features Include: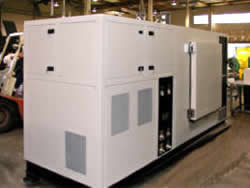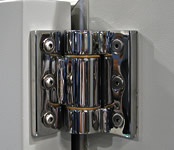 Programmable Logic Control (PLC) process control.

RS-485 communications interface.

A 10-inch color touch screen Human Machine Interface (HMI).

A non-ozone polluting, water cooled, refrigeration system.

Silfoss and silver soldered copper refrigeration piping.

Hinged access panels and heavy duty industrial hardware.

Programmable control of chamber environmental profiles.

Digital display of system conditions and control parameters.

Oil-tight illuminated master switch and reset pushbutton.

A 300 series stainless steel continuous heliarc welded interior.

A heavy gauge cold rolled steel outer case and frame.

Refrigeration gauges, pressure switches and safety sensors.

An average of 6-inches of vapor sealed fiberglass insulation.

Two full opening, in-fitting chamber access doors.

A separate high temperature safety control.

Stainless steel door drip pans.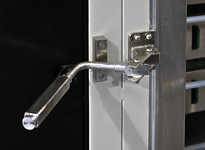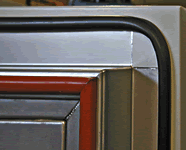 Normal required utilities are tower water at a maximum temperature of 85 F and a minimum pressure of 20 psig, three phase power, deionized water when optional humidity is selected, and drain. All utilities except for electrical power are terminated on a convenient anodized aluminum panel on the rear of the system.
---
Optional Humidity Systems Feature:
A TetraTek stainless steel electric heated vapor generator.

A dual tower, heatless, compressed air desiccant drier.

A wide range precision direct relative humidity sensor.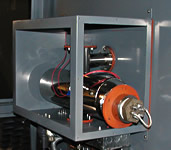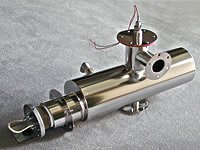 ---
Available Options:
Discrete system process controls to suit your preference.

A digital one or two pen strip chart recorder.

A 24-hour or 7-day circular chart recorder.

Environmentally rated shelves, card cages, and supports.

Access ports, connectors, and feed-throughs.

Interior windows and lights.

Product load and test stimulation electronics.

Data acquisition and product monitoring equipment.